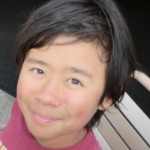 Music Composer, Fiction Writer, Keyboardist, 3D-Modeler & Animator, Video-Game Designer & Programmer, Graphic Artist
Oldest son (age 14 as of 2014) of Ngoc and JAL who was born under water in a bathtub at home in less than four hours without any drugs or complications. Though known for his intellect, large brain, and curiosity, he is a creative soul at heart and enjoys creative projects such as fiction writing, making up impromptu stories with his siblings, playing instruments such as the keyboard and viola, creating 3D art and animation, and designing and programming video simulation games.
Fun Facts
Max has never been known to lose this temper or yell or scream. He prefers to feel his emotions quietly and alone. His full name is Maximilian Luzardo which means "the greatest ardent light." He has no middle name and his name was chosen by Ngoc. Ngoc knew the exact moment when Max was conceived and at that moment she knew he would be a boy.
Numerology Chart
To get your own free numerology chart, see the Numerology – Pythagorean (Western) System page.
Portfolio
Languages
Fluent English (native speaker)
Conversational Spanish
Connect With Max
Follow Max via his TheShadyFedora website and his TheShadyOrchestra YouTube channel. You may also send him an email using the Contact Us form on this website.
Comments