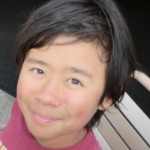 Music Composer, Fiction Writer, Keyboardist, 3D Modeler & Animator, Video Game Designer & Programmer, Graphic Artist
Oldest son (age 17 as of 2017) of Ngoc and JAL who was born under water in a bathtub at home in less than four hours without any drugs or complications. Though known for his intellect, large brain, and curiosity, he is a creative soul at heart (and a "techie" in mind) and enjoys creative projects such as fiction writing, making up impromptu stories with his siblings, playing instruments such as the keyboard and viola, creating 3D art and animation, and designing and programming video simulation games.
Personal Statement
I enjoy partaking in the notion that I'm one of contrasts, a person stretched between countless polar opposites. Growing up I've had times where I've been absorbed in books detailing the workings of the real world, its sciences, laws, and logic, and others where I wanted nothing more than to complete writing an entirely fictional novel, departing to the outrageous and fantastical. I've spent weekends relaxing on my game console in my family's spacious, suburban home, and days in the Costa Rican jungle, working with my father in the rain and mud to replace damaged wire and restore electricity to our tiny wooden house.
When I was thirteen years old my parents made the decision to move from our Californian home, one that I, and my two younger siblings had known for our entire lives, to Costa Rica, a nation in the humid, equatorial Central America. I had known nothing but the comfortable: school, friends, home life of a typical child growing up in the Orange County suburbs before that point, and where I ended up was the complete opposite of where I started.
I went from a spacious two-story home to a small wooden shack with only five separate rooms, from constant electricity and running water to frequently finding myself without either, and from seeing hundreds of other kids my age nearly every day to passing months seeing no one but my siblings and my parents.
I adapted. I did the best I could with the drastic change in my life. Being only thirteen years old it challenged me, but as I write this four years later I can safely say that I wouldn't have gone without this experience in my life. When most children and teens have experienced one way of life, I've experienced two. I've got to see and experience for myself the differences between living in an urban nation and living in a rural, developing one. I found new appreciation for the comforts and conveniences, and personal interactions I had in the US. because I experienced hard work and self-reflection in the beauty of an isolated region.
It was this period of my life that led me to realize the real value of experiencing contrasts—seemingly irreconcilable opposites. One can comprehend better an idea by understanding its opposite, and that way we learn the most from both. This is the reason why my fictional writing now is built around the exploration of concepts that are, by nature, polar opposites in order to get my readers to look at both and see them in a new light, or why I compose music with a frequent up-and-down, crescendos and diminuendos, so that the quiet parts can make the loud parts all the stronger, or the louder parts making the quiet parts all the softer.
This principle of contrasts has led me to embrace a diversity of thought. When it comes to people, no matter what their culture, religion, or beliefs, I listen to what they have to say and I learn their ideas, for the chance to not only better understand them, but also to better define and clarify myself.
This "contrast" defines the significance of my life's purpose. It causes me to want to look at the widest variety of ideas and learn the widest variety of skills. Differences lead to definition, contrasts lead to meaning. To want to know what one has never known before is to me not only a process of discovery, but also a means of looking at what I already know in a way I would never have before.
Fun Facts
Max has never been known to lose this temper or yell or scream. He prefers to feel his emotions quietly and alone. His full name is Maximilian Luzardo which means "the greatest ardent light." He has no middle name and his name was chosen by Ngoc. Ngoc knew the exact moment when Max was conceived and at that moment she knew he would be a boy.
Numerology Chart
To get your own free numerology chart, see the Numerology – Pythagorean (Western) System page.
Portfolio
Activities, Achievements, Hobbies, Volunteer Work, Paid Work
| | | |
| --- | --- | --- |
| From | To | Description |
| 2016 | Present | Compose, arrange, and digitally produce orchestral music as a hobby and for paid commission. Music compositions are shared on TheShadyOrchestra YouTube channel. Commissioned work includes writing the musical scores for two webcomics (Internet-based comics): The Keepers and Subject 411. |
| 2016 | Present | Volunteer as an administrator in the DeviantArt.com artistic feedback and support program Project Comment providing feedback and coaching aspiring writers and artists. |
| 2016 | Present | Digitally produce illustrations of dogs, foxes, and cats as a fun hobby. Art gallery is shared on DeviantArt.com under the artist name TheShadyFedora. |
| 2014 | Present | Design and develop 3D video games using the Roblox game engine and the LUA programming language, an object-oriented customized offshoot of C++. Almost all games developed are played offline for personal use, but one was published on Roblox for public play (Red Vs Blue Vs Green Vs Yellow Doomspire) and currently has about 717,000 visits or plays (as of 12/29/2017). |
| 2012 | Present | Wrote and published first fiction novel as well as completed the first drafts of two sequels to the novel. Since then, numerous short works have been authored and published as a hobby on DeviantArt.com under the artist name TheShadyFedora. |
Languages
Fluent English (native speaker)
Conversational Spanish
Connect With Max
Follow Max via his TheShadyFedora website and his TheShadyOrchestra YouTube channel. You may also send him an email using the Contact Us form on this website.
Ardent Light Homeschool Curriculum
To learn about our reasons for homeschooling, our homeschool philosophy, teaching credentials, grading scale and means of ensuring lifelong success, etc., see the Homeschool Curriculum page.
Comments