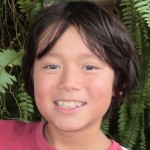 Aspiring Film Producer, Director, Narrator, Editor, Amateur Entomologist
Second son (age 12 as of 2014) of Ngoc and JAL who was born under water in a bathtub at home in less than two hours without any drugs or complications. Known for his unusually high level of Emotional Intelligence (EQ), Renzi is a great mediator and can bring people back into their senses when lost. He is a walking encyclopedia when it comes to insects and is fascinated with all kinds of animals, birds, sea creatures, and dinosaurs. He has a gift for making what he is interested in fun and exciting to learn about whether it be through writing, speech, or film.
Fun Facts
The name Renzi is a spin-off of the nickname Renzo which is short for the Latin/Italian/Spanish name Lorenzo which means "crowned with laurels, the crown of victory." Renzi has no middle name and his name was chosen by Ngoc.
Numerology Chart
To get your own free numerology chart, see the Numerology – Pythagorean (Western) System page.
Portfolio
Languages
Fluent English (native speaker)
Beginning Spanish
Comments