We currently have tent camping available in two structures. Both have corrugated tin roofs but one has a concrete floor and the other has a wood floor. The structure with the concrete floor is referred to as "the rancho" here and is a pre-existing structure complete with an enclosed bathroom, kitchen, storage, and an open space (constructed by the previous owner to be a dance floor) we use for tent camping as well as yoga and social gatherings, if there is enough space. There is also a hammock area that also has a corrugated tin roof to protect from rain that is attached to the rancho. The structure with the wood floor is our new yoga deck which can double-up for tent camping if needed. The rancho and the new yoga deck have a gorgeous 360 degree view of mountains and valleys.
Rancho Amenities
The bathroom, kitchen, hammock area, and open space area of the rancho all have their own lighting. Electrical outlets are along the outer and inner concrete blocks walls of the rancho. The bathroom at the rancho has a flush toilet with a semi-heated shower head and a water spigot that is right outside the bathroom door is used for washing hands, feet, clothes, etc. The rancho has built-in benches and counter for sitting and eating in the open space area under the roof. Inside the enclosed area of the rancho, we provide the following amenities:
Water Filtration Systems

: 1.5 gallon stainless steel Berkey gravity fed water filtration unit and a counter-top 3-stage Reverse Osmosis water filtration system attached to the full-size kitchen sink that includes a dish drying rack, eco-friendly dish soap, and sponges. A 5-gallon plastic water jug with spigot is available if you want to camp away from the rancho and have easy access to filtered or unfiltered mountain spring river water.

Kitchen Appliances

: Brand new 10 cubit feet refrigerator with freezer, 32 oz. blender, Omega VRT350 vertical juicer, 2-quart ice cream/frozen yogurt/sorbet maker, full-size camping stove with 2 large burners, 2 barbecue grill attachments, pull-out end tables, and a set of full-size barbecue utensils (stainless steel spatula, tongs, knife, two-prong meat fork). Large propane tank is provided for cooking fuel.

Furniture & Organizers

: Food preparation table with a stainless steel bottom shelf and a stainless steel side rack. A 4-basket rack to store food that does not require refrigeration. Two long shelves along one wall. Small shelf underneath kitchen sink. Numerous nails along the walls for hanging stuff.

Dinnerware

: 5 large porcelain bowls, 5 ceramic mugs (2 cup size), 6 ceramic plates

Pots & Pans

: 1 large stainless steel pot with lid, 1 medium size frying pan, 2 medium stainless steel pots with lids, 1 small stainless steel pot with lid

Cooking Utensils

: soup ladle, large spoon, spatula, wooden stirring/mixing spatula/turner

Knives & Scissors

: 1 butcher knife, 1 bread knife, 1 carver knife, 2 boning knives, 3 steak knives, 2 parer knives, 1 scissor

Cutting Boards

: 1 medium wooden cutting board, 1 medium plastic cutting board

Food Preparation Tools

: 3-blade spiralizer, food scale, mandoline slicer, stainless steel coconut meat tool, stainless steel potato masher, stainless steel turkey baster, stainless steel nutcracker set, stainless steel pizza cutter, stainless steel can opener with bottle opener, garlic press/crusher, stainless steel measuring cup set, nylon teapot steeper, 2 nylon tea steepers, coffee cup sieve, colander.

Eating Utensils

: set of stainless steel salad and dinner forks, dessert and soup spoons, and butter knives

Serving Utensils

: set of stainless steel serving spoon, serving fork, sugar spoon, and spreading knife

Food Storage

: 4-basket rack for storing fruits or other foods that do not require refrigeration, 4 stainless steel Thermos jugs with stainless steel spoons to keep soups or food hot, 1 Coleman lunch cooler, plastic and glass bottles and containers with lids

Laundry

: You have the option of using our washing machine with an eco-friendly, biodegradable, organic, homemade citrus enzyme cleaner that works well as a laundry detergent and stain remover for $2.00 (or the equivalent in colones at the current Banco Nacional venta or sell rate) per wash/load. A propane gas clothes dryer is also available for $2.00 (or the equivalent in colones at the current Banco Nacional venta or sell rate) per load. Alternatively, you may choose to wash your clothes manually using your own soap and dry them on a clothes line provided at the rancho for free. Clothes hangers are provided upon request.

Entertainment

: A Phillips CD alarm-clock radio with a large collection of music CDs is available in the kitchen of the rancho. Over 1500 movies including popular top-rated movies and more than 900 popular karaoke song videos in digital file format is available upon request to copy onto your device if your device has a USB port/cable (no Internet required).

Miscellaneous Items

: Anything else you may need that we may have (just inquire ahead of time). We may also be able to purchase items for you if given enough advanced notice and if it is something we can buy at the Thursday San Isidro farmer's market (e.g., natural soap and shampoo). We just ask that you cover the cost of the item.
New Yoga Deck
See the New Yoga Deck album on the Ardent Light Facebook page for pictures of the beautiful completed new yoga deck.
The Beginning of an Outdoor Gym
See The Beginning of an Outdoor Gym album on the Ardent Light Facebook page for pictures of our new pull-up and parallel bars that are near the new yoga deck.
Overnight Stays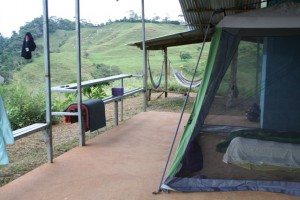 Each overnight stay includes (please contact us in advance to check availability):
A day pass (see Waterfalls Tour)
An Ardent Light Healing Yoga class (dependent on the space available for yoga, available yoga mats, and JAL's schedule)
Accommodation of choice:

Bring your own tent/camper, mattress, bed sheets, pillow, and sleeping bag for $6/night per person. If you only bring a tent, you can rent a twin-size mattress with bedding and pillow for $1.00/night and a sleeping bag or blankets for $1.00/night.
Rent a 2-person tent, mattress, bed sheets, pillow, and sleeping bag or blanket for $10/night for one person. If two people share the same tent it would be $7.50/night per person or $15/night per 2-person tent. We currently have two 2-person tents at this rental price.
One 4-person canopy with see-through screens on all sides (includes mattresses, bed sheets, pillows, sleeping bags or blankets) for $20/night
One 5-person tent with attached front screened living room (includes mattresses, bed sheets, pillows, sleeping bags or blankets) for $25/night. This tent has to be in the open-air area (not under a roof) because it can only stand on its own with stakes in the ground. For this reason, this tent is only available during the dry season (December-May).

Wi-Fi access – We have 4.0 Mbps download speed Internet access via Wi-Fi which is good for video streaming and making or receiving video Internet calls such as Skype. Wi-Fi does not reach the tent or hammock areas, but are available within 100 feet (33 meters) around the Luzardo family's house. There are two tables with chairs in the patio of their house where guests can sit.
Use of all the amenities listed above
Food grown on the land if there is enough for everyone
Interns/volunteers receive discounts for a stay of 7 days or more. See Internships, Retreats, Volunteering for more details.
Suggested Packing List
We are located about 800 meters (2635 feet) above sea-level so average daytime temperatures are in the 70's Fahrenheit (21-26 Celsius) during rainy/green season (mid-April to mid-November) and 80's Fahrenheit (27-32 Celsius) during the dry season (mid-November to mid-April). Average nighttime temperatures are in the 60's Fahrenheit (15-20 Celsius) during rainy/green season and 70's Fahrenheit (21-26 Celsius) during the dry season. Depending on your temperature tolerance levels, you can bring clothes that will help you be more comfortable. The following are suggested items to pack or bring with you (in addition to whatever you feel you need):
Natural soap and shampoo — if you use soap and shampoo (you can buy Bioland Organic shampoo and soap at Supermercado Cooperalanza in the town of Pejibaye
Natural dish soap (body soap works well for this too) – we will provide the natural loofah sponges for dishes, body scrubs, and general multi-purpose cleaning
Natural bug repellant (e.g., Dr. Mercola's Bug Spray)
Toilet paper — We do not use toilet paper (just use our hands with water and soap) since 15 million trees are sacrificed each year in the U.S. alone to produce them. If you require toilet paper, please bring it. We will provide a trash can and trash bag and dispose of the trash for you since the toilet cannot handle toilet paper.
Bath towel
Flashlight — if you need to get up in the middle of the night or need to walk from our house to the camping area
Umbrella — if you are coming during the rainy/green season
Yoga mat — if you want to join us for yoga in the morning (just in case we do not have enough for everyone)
Rubber boots — for hikes through rivers (also available for purchase in the town of Pejibaye)
Rain jacket — if you are coming during the rainy/green season
Jean pants — for hikes through the rainforest
Take/Give Donations
We have accumulated items either from our own tribe members or from guests/interns who have stayed with us that we have set aside as donations for anyone to take for FREE. Please inquire if interested.
In lieu of tips, we would gladly accept donations of any of the following items (in usable or new condition) if you happen to have them and would not mind donating to the Motherland for tribe members and guests/interns to use or take. We would accept with much gratitude:
yoga mats
brooms to keep the yoga studio clean
natural hand soap, shampoo, dish soap, distilled vinegar
twin and full size mattresses (e.g., air, foam, etc.), bed sheets, pillows, pillow cases
tents, sleeping bags, blankets, comforters
hammocks, rope for hanging them
large coolers to protect fruits and other food from fruit bats and other nighttime critters
family-friendly fiction or non-fiction books
board games
Food
In order to provide food for guests, we will need advanced notice due to the land not producing all the food we need yet. We have to purchase supplemental organic food from the farmer's market in San Isidro de El General (see video below) once a week on Thursday mornings. The San Isidro farmer's market is the largest farmer's market in Costa Rica. With enough advanced notice (before Thursday) and if it is just for a few folks, we can prepare organic vegan or vegetarian dishes for a flat fee of $25 per day per person ($12.50 per day per child under 10 years old). There is no specific menu as guests would just eat together with our Tribe. Guests are also welcomed to bring and prepare their own food using the kitchen facilities at the rancho. Guests are also welcomed to carpool with JAL on our weekly Thursday trip to the San Isidro farmer's market (if there is capacity in the car, the cost of gas will be split evenly among the passengers).
Water
Currently, our water pipes are hooked up to a nearby river which is fresh natural mountain spring water but with accumulated sediment since the water collects sediment and other debris as it flows down the mountain from its source. For this reason for drinking water, we provide both a 1.5 gallon stainless steel Berkey gravity-fed filtration system and a countertop 3-stage Reverse Osmosis water filtration system. The river water is safe and clean enough to shower and wash hands, clothes, and dishes with, but probably not recommended to drink in large amounts without some minimal filtration. We are currently working on sourcing our water directly from the source for the purest mountain spring water. See Current Projects for the latest update.
Stores/Services Nearby
About 2.5 km (1.5 miles) down the dirt road from us is a small convenience store. We have five mountain bikes with helmets for your convenience if you want to bike to the liquor store or the town. Use of the bikes is at your own risk as the road can be very bumpy with a large incline. Must be an experienced mountain biker to use. The town of Pejibaye which is about 4 km down the dirt road has:
2 supermarkets (Supermercado Cooperalanza and Supermercado Licorea Carnicería)
2 hardware stores (called ferretería)
Family-owned restaurants (called sodas e.g., Soda La Negra)
3 bakeries (called panaderia)
2 pizza parlors (Pizzeria Italiana and Pizza Broza — we recommend the first one as their pizza is even better than the ones we tried in San Isidro and they make their own pizza sauce and they deliver for only 1500 colones including weekends)
2 bar restaurants (Salon Atletico Del Valle and ?)
1 beauty salon
1 pet store
1 appliance store
1 multipurpose store (Bazar y Tienda Dinia that sells shoes, cosmetics, toys, school supplies, photocopies, and Claro/Kolbi cell phone minutes recharge cards)
1 gas station
3 mechanics with car washes (Pejibaye Oil Center and Taller Mendez and ?)
1 Catholic church
1 Christian church
1 credit union (Coopelanza)
1 free Wi-Fi spot (in front of the ICE office building, the electric, phone, and Internet company — only available during business days/weekdays and business hours)
1 public medical clinic with pharmacy (right before the ICE building)
Nearby Attractions
Natural fun waterslide on the Pejibaye river about 2 km (1.2 miles) down from us.
The premier 500-acre iRescue Lazy J Wildlife Preserve is about 1 km up the road from us. Only a $50 a year membership (to help support this non-profit organization) is required for one free night stay and 20% off accommodations the rest of the year. This is a private wildlife reserve so it is not open to the public. Only donors or members may visit or stay overnight with advance notice or reservation. See http://www.irescuenonprofit.org for details.
Wildlife sanctuary/rescue center that is open to the public (volunteers and guests) but is about a 2-hour drive away:
Alturas Wildlife Sanctuary — Located between Domicial and Uvita. They have great veterinary services and the animals are released back into the wild when fully recovered.
Reservations Required
To help us prepare for your visit and to make sure the dates, food, and accommodations you want are available, please contact us to make reservations. See the Contact Us page for contact information. See the Directions page for a map and directions.
Why Are We Charging?
We are just in the beginning stages of our path to self-sufficiency. Since we are not 100% self-sufficient yet, we will have expenses. Our goal is bring our prices down and to eventually share and offer everything we have for FREE. That can only happen when our expenses are zero. Zero expenses means zero need for money. We are doing our best to eliminate all unnecessary expenses (e.g., no longer using toilet paper, just using our hand to wipe and washing our hands with water and soap), and becoming fully self-sufficient, and inspiring others to be self-sufficient, will enable us to eventually eliminate all other expenses.
All proceeds are greatly appreciated and will be responsibly directed to:
Self-sufficiency projects, including greenhouses and food forests to provide fresh organic food for guests/interns, guest/intern cabins with shared and private bathrooms, communal kitchen, dining, and living areas for guests/interns, educational hands-on workshops, etc.
Community outreach projects such as a scholarship fund for internship programs for those who cannot afford them and adoption of orphans by the tribe
Photos, Videos & Testimonials
If you have not already, see the Waterfalls Tour page for links to the photo album and video playlist of the Ardent Light Motherland as well as testimonials from others who have been here. To learn more about us personally, see the About Us page.
Comments