In addition to our usual farm maintenance such as maintaining roads, walk ways, hiking trails, water hoses, vegetable and herb gardens, and food forests, we currently have the following projects.
The Beginning of an Outdoor Gym
On Saturday, February 11, 2017, pull-up and parallel bars were created/installed and marks the beginning of the creation of our outdoor gym on the Ardent Light Motherland. See the Facebook photo album titled The Beginning of an Outdoor Gym for photos and explanation of our progress to date.
New Yoga Deck/Platform
Our new yoga deck/platform near our rancho (our current yoga studio and communal kitchen and bathroom area) is almost done. The new yoga deck can also be used as additional tent accommodation space if the rancho space is full. See the Facebook photo album titled New Yoga Deck for photos and explanation of our progress to date.
Cob Guest Cabins Construction
On January 22, 2016, we started the construction of the first of four guest cabins made of cob with experimental papercrete. See the Facebook photo album titled First Cob Guest Cabin Construction for photos and explanation of our progress to date.
On January 20, 2017, we started the construction of the second guest cabin that will be made using the wattle and daub technique. See the Facebook photo album titled Second Guest Cabin Construction for photos and explanation of our progress to date.
If you are interested in joining us to learn and help build, see the Internship, Retreats, Volunteering page for details.
Tree Planting & Irrigation Project
About 500 trees (mostly fruit) have been planted so far in two food forests on the Ardent Light Motherland. Most of them were planted during the first rainy season (May-November 2015). The dry season starts end of November so we have stopped planting trees. We are now just cutting/pulling weeds to use as mulch around each tree to help suppress weeds, retain moisture, prevent evaporation, create top soil, and act as natural fertilizer for the trees when the mulch decomposes into rich soil. Also, to keep the trees irrigated during the really dry seasons, we have installed a manual irrigation system.
Spring Water Catchment Tank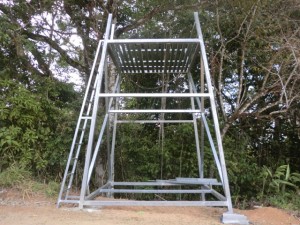 The Luzardo family has successfully purchased the 1 hectare of land that contains the highest, closest, year-round mountain spring source for the Motherland. The Motherland does have several mountain spring water sources but they are at lower elevations and not year-round. A concrete spring water catchment tank with ceramic tile interior with pre-sediment filtration built-in has been constructed next to the spring water source and about 60 sota trees (type of tree that Ticos say are especially good for protecting spring water sources) have been planted around it. A tower has been built to hold a large water tank at a much lower elevation near the site of the future communal kitchen and living area to reduce water pressure and prevent water pipes from breaking. The tank we purchased to place on top of the water tower arrived defective so we had it returned. We then decided to build our own tank to avoid plastic. The hoses were purchased and installed, but due to high water pressure, some hoses busted. We need to build two more tanks in order to further reduce the water pressure. One on the tower pictured above and one between the first tank at the source and the last tank at the tower. The Ardent Light Tribe will have plenty of water reserves as a result. This project has been put on hold due to the construction projects listed above taking priority.
Existing Food & Medicine
We are still continuing to discover what is edible and what can be used as medicine on our land. The following are what we have discovered so far:
Bananas – about six different varieties from an estimated 500 trees
Plantains – about 100 trees
Soursop – 1 tree
Lime – 1 tree
Rangpur Lemon – 6 trees
Sweet Orange – 1 tree
Tangerine – 1 tree
Avocado – 2 trees (not producing fruit)
Mango – 2 trees
Noni – 1 tree
Guava – 1 tree
Papaya – 2 trees (most fruit are too small, the one that grew large did not ripen well, and the medium sized ones that ripened got eaten up by three toucans)
Coconut – 1 tree (coconuts are small and we have not figured out how to harvest them from the tree yet)
Cherry tomatoes – many growing wild throughout the property
Black raspberry – 5 bushes
Hibiscus – 7 bushes
Tiquisque – estimated 10 plants
Yuca (cassava) – estimated 20 plants
Salve bush (jackass bitters or gavilana) – growing wild in the valley area
Coffee – 15 bushes
Sugar Cane – estimated 10 stalks
Pejibayes – 2 trees
For already completed projects, see Past Projects page.
Comments